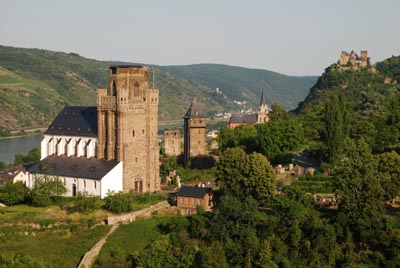 The village of Oberwesel, Rhein Valley, Germany
We recently hosted the Bassford-Nelson-Albrecht family on a tour which started in Paris and ended in southern Bavaria. What memories! There are too many to recount here, but here are a few.
Jenean met the family in Paris on June 18. Three nights is hardly enough time to take in the City of Light, but they did their best! A cruise on the Seine allowed for some great photo opportunities, especially of the Eifel Tower. The hotel that we use is within easy walking distance of Notre Dame, as well as the Louvre. Can you get in and out of the Louvre in an hour? This family did! (With coordination from Jenean)
We continued the adventure with a couple of nights in the countryside, headquartering in tiny Nitry near Noyers, about two hours south of Paris. It was nice to be out in the wide open countryside after the sirens and activity of Paris.
Heading north into Germany, we spent two unforgettable nights at the Schloss Schoenburg, which has been turned into a lovely hotel. We're sure that the accomodations weren't so comfortable in the 1200s when this castle was built. The views over the Rhein are astounding.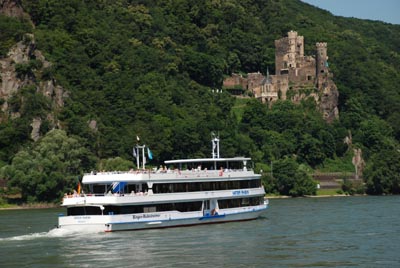 The "Vater Rhein" cruises past one of the many castles in the middle Rhein Valley
Heading further to the east, we stayed a couple of nights in medieval Rothenburg ob der Tauber, which by the way is the European headquarters for European Focus and European Focus Private Tours. We were lucky that German won the semi-final of the European Meisterschaft that night, because the celebration was pretty wild!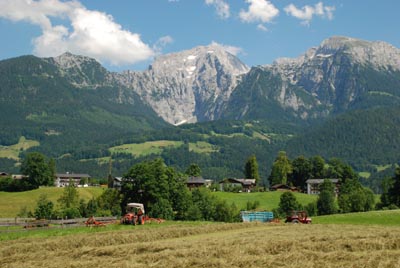 View from our favorite alpine hotel, Zechmeisterlehen
Driving further into Bavaria, we spent a night in Munich before delving deeper in the Alps for two restful nights at the Zechmeisterlehen Hotel near Berchtesgaden. This is absolutely one of our favorite places to stay in Germany and the view from the hotel shows one of the reasons why. We had a wild white water rafting expedition while here, resulting in one of the taglines of our trip – More Power!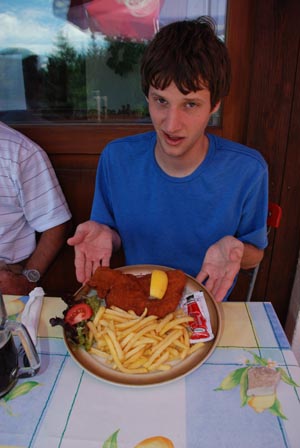 Mein Gott! This schnitzel is huge!

Our guest Nick Albrecht had to have one more giant schnitzel, and he found it at a Gasthaus high up on the Kehlstein mountain under where Adolf Hitler had his Berghof.
Wrapping up the trip, another beer garden in Landshut, not as scenic at the one near Berchtesgaden but closer to bed!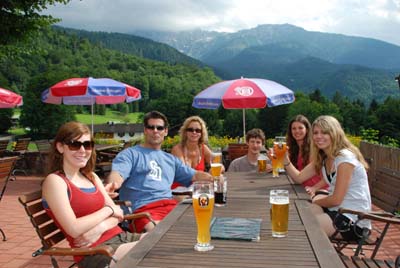 Beer garden near Berchtesgaden, Germany
Thank you Susan, Scott, Nick, Jacqueline, Kaitlyn and Paige.