Dear Traveler,
One of the greatest influences in my life was Guenter "Gus" Schuettler, photo chief of European Stars and Stripes. Gus was 9-years old when bombs fell on his native Kassel during World War II. He and his sister hid in their aunt's basement as the earth shook. Gus's first taste of chocolate was also the day when he saw his first black man, a U.S. Army soldier on a tank rolling through Bad Sooden, where Gus had survived the war.
I loved hearing Gus's stories of the war and his emigration to the United States. He'd become a proud U.S. citizen, soldier and happily married man. And yet…. "Jimmy," he confided, "even with all of the ways I'm spoiled at home, I'm happiest when I head out onto the open road, on assignment, camera bag by my side. That's when I really come alive."
As his young, enthusiastic protégé, I inherited Gus's wanderlust and sense of good fortune. When I'm on the road, wheels humming, vistas unfolding – that's living. My senses seek the indelible, stunning image. After hundreds of photos published in "Stripes," my work now enhances the scrapbook memories of my guests.
European Focus is not just another tour group. It's a personal mission, and one that I feel uniquely qualified by life experience to perform. Recently, I was chosen to introduce a 78-year old woman to her ancestral village near Bremen, Germany. Dolores met cousins, toured the area's sights and saw the baptismal font where her ancestors were christened. Best of all, she met a former neighbor who thanked her for "the lovely dress." Dolores was confused. "What dress?" "The dress you sent to me in 1947," the woman replied. Tears flowed as memories of that long ago care package assembled by Dolores' grandparents in New York came flooding back. And I photographed it all, just as Gus taught me. Dolores passed away in her sleep six months later. I like to imagine that rich memories of her one and only visit to Germany filled some of her final thoughts.
That's why European Focus exists: exploration, connection, joy. Come along for a ride. Let's see what we can discover, together.
– James Derheim
Owner and Founder
European Focus has coordinated and led 316 tours since its founding. (As of September 1, 2019)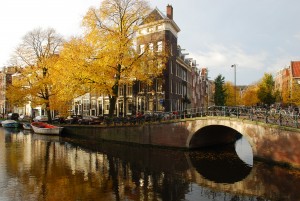 FAQ
Q: You mean you will design, coordinate and lead a tour for just one person? What is your maximum group size?
A: We have done many tours for singles, especially in our popular family history tours area. The largest group we have ever worked with was 17, when a beloved grandmother took her entire family to Germany to see their ancestral town. We most commonly design and lead tours for couples, small families of four or five and sometimes larger. We stay away from big buses or mixed groups. European Focus' founder James Derheim invented the concept of customized tours way back in 1989 before anyone had ever dreamed this was possible. Even though we have a few imitators now, we were the first and believe that our experience and know-how trumps others who have copied our formula.
Q: This must be expensive. What does a European Focus Private Tour cost?
A: Our services are not cheap, nor should they be. Think of what we do as you would going out to a fine restaurant versus going shopping and cooking all of the ingredients at home. There is your time (in shopping and preparing) and on the other side, just sitting down and being served with no clean=up involved. We take the worry, indecision and stress out of travel, leaving just the fun parts behind for you to enjoy. Yes, this costs money. Our tours are about three to four times the cost of going on one of the so-called "bargain" bus tours. (And sharing the experience with 40 or more incompatible strangers) Because every tour we do is unique, we are more than happy to provide you with an estimate once you let us know (via our simple online form) what your budget parameters might be for your trip.
Q: We love to collect miles and points. Can we pay for our trip with a credit card?
A: So do we! We do not normally accept credit cards as payment for tours because ultimately that 3.5% (or more) fee that is deducted from the payment would just have to be passed on to our clients. If you are OK with that, then yes, we can sometimes accept payment by credit card. We gladly accept your personal or company check.
Q: What happens if you get sick, or worse? What happens if I get sick, or worse?
A: Trip Cancellation and Interruption Insurance covers your investment in both circumstances. The "Cancel for Any Reason" coverage includes if your trip has to be rescheduled or canceled due to one of your guide's being injured or worse before your trip can take place. It should be pointed out that in our long career we have never, ever missed a tour. Since there is always a chance at a first time, we are big believers and promoters of trip insurance.
Q: How many tours do you do in a season?
A: From 10 – 18 between the first part of April and the first part of November. James usually flies over once in the spring, stays through the season, and then comes home in the fall. We will do off-season tours depending on what, where and with how many. Even thought our foundation was built on family history tours, we have long and deep experience in coordinating and leading tours that are based on one thing – a wonderful vacation with no hassles. There is no other group or company in existence who can come close to our depth of experience in European travel, much of it earned during James' stint with "Stars and Stripes" in the 1980s and 90s.
Q: Do you provide references?
A: Certainly. We are proud of our trips. We will be happy to put you in touch with someone who shares something in common with you so that you can communicate your concerns or questions.
Read our extensive "Travel Tips" here.
The European Focus tour vehicle. It is a 2018 Volkswagen Multivan "Highline" edition, with all options, A/C of course, leather, comfort ride, automatic, dual electric sliding doors, auto close on the rear hatch, large luggage compartment