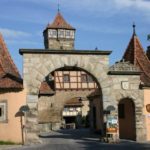 Last night I said good-bye to a very special group of people from Pinehurst, North Carolina. Six members of a 10 member strong group who had traveled in Germany with me and my driver and good friend Norbert Press continued their adventures with me in Budapest, Czeske Krumlov, Prague, the Bavarian Forest and the Rhein Valley. Here's a bit of what happened:
I'd been hired by Mike LaGraff and his group of friends to escort them from Frankfurt to N?ºrnberg in advance of a Viking River Cruise trip they were taking to Budapest. With ten passengers, I needed a second vehicle and steady hands on the wheel. I chose my longtime friend Norbert Press to be that second set of hands. We picked everyone up at the Frankfurt Airport and drove south and west to Miltenberg am Main in far northern Franconia. Note- don't tell someone from Miltenberg that he is a Bavarian! He will remind you firmly that he is a Franconian, Vielen Dank Sehr Viel! Jetlagged but happy to be on solid ground, we helped our group check into the landmark 'Riesen' hotel in the center of quaint, half-timbered Miltenberg. After getting settled, we strolled down the Hauptstrasse to the beer garden of the Faust Brewery, located right among the 16th and 17th century buildings along the peaceful Main River. Beers all around and then big portions of Bavarian – er, Franconian – dishes. I will never forget my guest Chuck Kachel's delight at his thick slices of pork with all of the trimmings. Quite a change from the last meal served at 35,000 feet, right Chuck?
Sunshine prevailed and the group had the rest of the afternoon to do what they wanted until we met again for Happy Hour on the terrace of Mike and Susan's room. While the others were strolling or napping, Dennis and Ruth Ertel and Norbert and I went across the Main to a small village to select wine from a private grower. We had a little tasting and bought several bottles for later. We toasted the trip with a sea of crooked rooftops around us before descending down to the restaurant of the Riesen for mugs of cold beer and more Franconian delights.
The next morning found the group enjoying some of Germany's best coffee, prepared by the hand of Frau J??st, the jolly co-owner of the Riesen. She and her husband rescued this 16th century building from certain destruction in 1970. The Miltenberg town council was actually going to OK a bank being built on this spot where kings, princes and even Martin Luther slept!
The Germans often have told me that more destruction was wrought in the '70s than during all of the bombing of WWII. (This blog is not meant to be statistically checked!)
We took a daytrip to Erbach in the middle of the Odenwald Forest. There our guide Petra was waiting to take the group on a private tour of Erbach Castle. Inside, thousands of antlers, an amazing armor collection and lots of Greek and Roman treasures appropriated during the 1700s when there was virtually no control over who took what from the ruins of Pompeii and other sites around Italy.
Heidelberg was next and with sparkling weather we enjoyed lunch in the beer garden of the Kulturbrauerei. We'd parked the vans up at the castle and taken the vertical train down from there. Now we wandered around the old town and made our way back to the train for a walk around one of Germany's oldest and most beautiful castle ruins.
Returning to Miltenberg I had the idea to stop at another castle, this one high above the picturesque village of Hirschhorn for a late 'Kaffee und Kuchen' break. Several of the group had the apple strudel with ice cream. It was quickly proclaimed to be the best ever. Of course, the view helped with the enjoyment of our break.
Returning through the forest to Miltenberg we took a short break before adjourning to the Weinhaus am Markt for a rollicking and very fun evening of enjoying the local wine and food. I'll be 90 and still laugh about Chuck finishing his generous rumpsteak and then proclaiming to the group that he could easily eat another one! Brenda, our European newbie (first trip across the Atlantic) enjoyed some warmed camembert and proclaimed it the best ever. There will be lots of 'Best Evers' on this trip.
A slow journey down the Romantic Road to Rothenburg ob der Tauber made up the plan for the first part of the third day. We stopped in tiny Detwang just outside of Rothenburg for lunch in – what else – a beer garden. Many enjoyed the white asparagus with either a side of bratwurst or pork or steak. All had the local beer. Why does beer just taste better in the sunshine under a shade tree?
Rothenburg has to be seen to be believed. Some of the group had been here before and so were prepared but for those who were here for the first time it is quite a sight. Medieval with a capital 'M' the town attracts 2.5 million visitors a year and still manages to feel like a small village after the hoardes of tourists get back onto their buses.
Our guests stay at the Hotel Gotisches Haus, which is a mansion built in the 1300s and recently modernized. Bob and Brenda had room 30 with a small terrace overlooking the town and the Tauber Valley and so their room was designated the Happy Hour room.
After some time to explore on their own, we met again at the hotel for a carriage ride down to the wine cellar of the Glocke Hotel and Restaurant. An hour long tasting of five different Franconian wines was conducted by Herr Th?ºrauf, a member of a wine producing family stretching back generations. We sat at along table lit by candles and surrounded by huge oak barrels built centuries ago. Cheese and bread was provided to clear the palate between tastes. And, unlike a 'real' tasting, we were allowed to drink the samples! At the end, we bought four bottles and continued on our carriage with a very genial Rudi at the reins, taking us down through the Tauber Valley, across the 14th century double bridge and on past old mills, Lord Mayor Toppler's summer cottage dating from the 1380s and more. We ended up at the Alt Fr?§nkishe Weinstube for dinner in another candlelit atmosphere. It was my night off but I ran into Norbert looking sort of hungry and lost so we adjourned to a table outside of the AF Weinstube for dinner.
The next day our sunshine ran out and we had some rain as we drove up to Weikersheim for a visit to the castle. I convinced the manager to let me take my group in on a private tour, led by me. It was the first time I had been allowed to do this. A little extra cash to grease the skids and we were in. We were able to see the highlights at our pace. One of those highlights is the magnificent dining hall, constructed between 1599 and 1601. It is a sight to behold, with animals jutting out from the walls next to painted panels hung from the ceiling depicting gruesome hunting scenes. Stucco galore decorates the hall, with knights, maidens and fruits hanging everywhere. Parties here would last for days and feed thousands of powdered and pampered guests.
Back to Rothenburg for more free time before dinner at our favorite pub, 'Hell,' where we were served giant skewers of beef, pork and veggies among other delights chosen by the group.
Franconian wine flowed and we all had a great time until it was time to go join my friend Hans Georg Baumgartner, also known as the Night Watchman, for his evening rounds.
More about Georg on www.nightwatchman.de
Afterwards, wine on Bob and Brenda's balcony with the town all lit up below.
The next day we took the group for lunch in one of Franconia's jewels, the city of Bamberg. We didn't know that today there was a huge race and most of the city center was roped off. We squeezed into the parking garage before the main event started and spent the next four hours wandering around the historical center, eating Bavarian fare and drinking the famous 'Rauchbier,' or smoked beer. A few liked it, a few did not. I managed to capture a shot of Ro Kachel wrinkling her nose at the taste, mug of beer in her hand, and the evil side of my brain wonders how much the folks at the Rauchbier World Promotion Agency would give me to promise to not distribute that shot around the world? HA!
The tour ended by saying farewell and 'Auf Wiedersehen' on board the Royal Viking 'Neptune,?Ñ docked in N?ºrnberg. I'll be seeing six members of this group in a week in Budapest.