October 8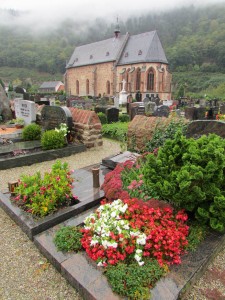 We love taking our guests to out of the way places where they can experience something truly unique. The historic church at Ersheim on the banks of the Neckar River just outside of Hirschhorn is one of those places.
It had been years since we last visited this very old church, first mentioned in a document in the year 1335. The last time was a decade ago when we took clients here who had ancestors from this village. Returning was special for us, too.
The church was added to in the middle of the 1400s, receiving a beautiful choir section with delicate ribbed ceiling. The frescoes decorating the center of the inner portion of the church date from around that time. The outside scene of Christ praying in the Garden of Gesthsemene is from the year 1669 and we marvel at how it has survived unbroken or unmolested since that time.
Around the church is the cemetery, more park like to our American eyes, with live flowers growing on nearly every manicured grave. Family members tend these graves. Foreign visitors to Germany are surprised to learn that you only rent your space for a period of about 30 to 35 years. After that, the grave is used for another occupant.
Fog and mist in the Neckar Valley added to the silence and sense of mystery around Ersheim Chapel. We won't wait so long to go back.