Ken Frumin had a great idea for a surprise birthday present for his wife, Michelle. He bought her a trip to Germany and England to walk where her ancestors walked. The most incredible part is that Ken arranged the trip in February and held the secret for three months without spilling the beans, right up to Michelle's big day in May.
Finally after months of planning and waiting, the day arrived when the Frumins arrived in Frankfurt. We started with a couple of nights in medieval Rothenburg ob der Tauber, the European home base of European Focus Private Tours since 1999. The jet-lagged pair had a spacious apartment in a 14th century barn to stretch out and relax for the weekend. It was the perfect way to get their feet on the ground and prepare mentally and physically for what was ahead.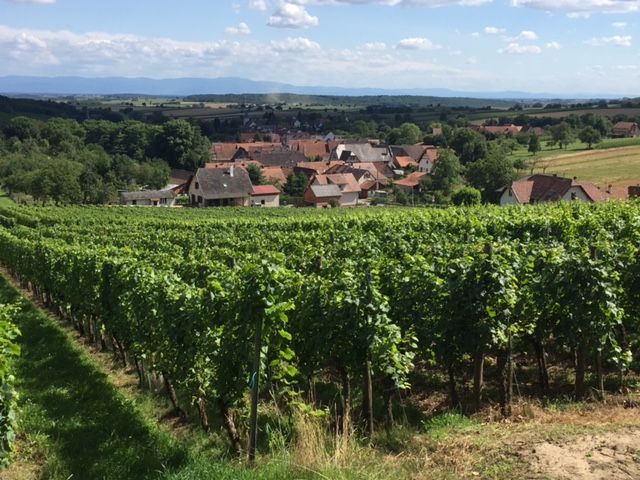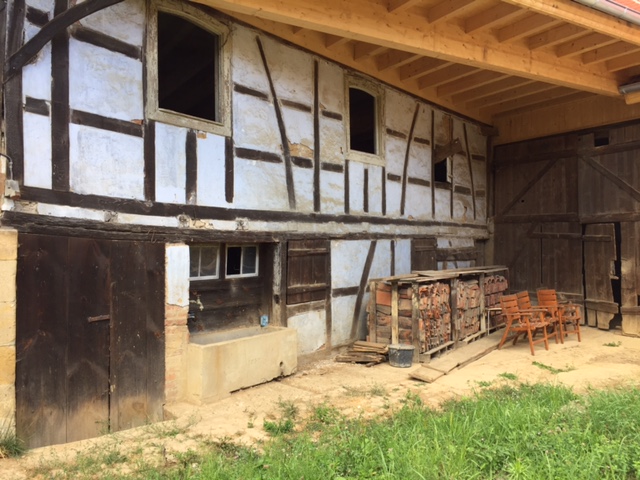 When we arrived in Michelle's ancestral village of Cleebourg, France we were immediately captivated by the perfect little village full of half-timbered houses. It was lunch time, and so we stopped in a nice-looking restaurant in the center of the village. Within a few minutes, we realized that the owner of the inn was a distant relative of Michelle's! What a way to start a trip into the past. Not only was Michelle able to speak with Monsieur Jacky about the past, but we had an excellent meal besides.
We made an appointment to return the next day to go over some family charts. Monsieur Jacky was going to have a cousin send those charts to him by e-mail. In the meantime, we would explore the village, take pictures, and visit nearby Seebach, also in the Alsace region of France. Seebach is known as one of the prettiest villages in the region.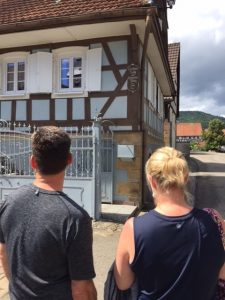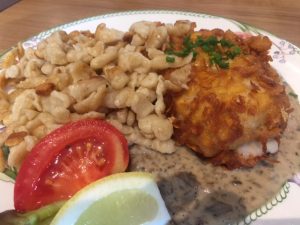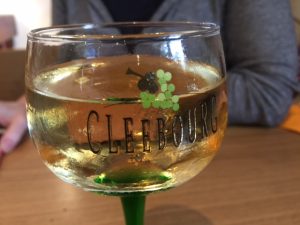 The following day we returned to sit down the Monsieur Jacky, who had the family chart from his cousin. Michelle will stay in contact with the family to determine the exact connection. We enjoyed a glass of local cremant (champagne) and there was a festival happening in the village with thousands of attendees. After a stop at the local wine cooperative to buy wine and cremant to take home as souvenirs, we went back to our temporary home base across the border in Germany to prepare for the next leg of Michelle's odyssey – England.