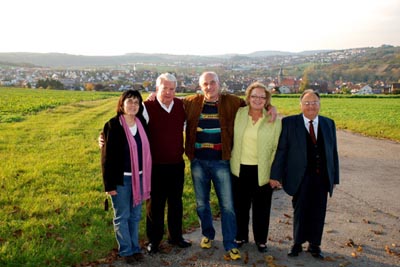 Betsy Cooke, second from right, along with her husband Jim,
second from left with relatives in Enzweihingen, Germany
during their private tour in October
Betsy Cooke had the opportunity to connect with relatives in the small town of Enzweihingen, near Stuttgart, Germany this past October when she visited with her husband, Jim. A family reunion was put together by one of those cousins and more than 20 people showed up for traditional "Kaffee und Kuchen" at a small Gasthaus near the church. The Gasthaus turned out to be owned and operated by yet another cousin! (Yes, there are some people living in Enzweihingen who are not related) It was a terrific experience as we shared an afternoon with truly generous people who opened their doors to us. Our visit included a private tour of the town's historic landmarks, views of the town from nearby hillsides and a visit to a farm where one of Betsy's cousins raises dairy cows as well as sugar beets, grains and oh, he's also a wine maker and trumpet player in the village band!