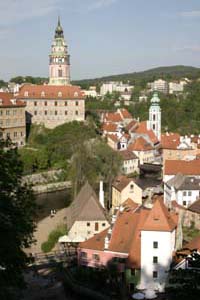 This was our stop after leaving Budapest. It was a long journey, broken up by a leisurely lunch in Melk, Austria. I took a small, curving road following a stream the last 20 kilometers into Czeske Krumlov and it was a gorgeous drive, reminding me of the Black Forest of Germany.
Our first view of Czeske was underwhelming. However, as we drove deeper into the valley were were all impressed by the awesome sight off to our left. A massive 13th century castle with the medieval town center spread out all around, a high-roofed church built in the 1200s at the other end of the town center. We parked in the square and Bob Hepner and I walked over to the tourist information office to get an exact fix on the location of the hotel that they had reserved. We found out that we were only a few steps away. This delightful inn, the u Maleho Vitka (Little Vitus Inn) is located in three old houses in a perfect location near the square and castle. We got settled into our rooms and then checked each other's rooms out, many were extra large and featured whirlpool tubs.
There was time for exploring before dinner. And what a dinner! We ate in the old prison in a small chamber which we had to ourselves for most of our dinner. Dinner consisted of steaks, veal chops and plenty of the house red and white wine. We all had a great time and agreed that this was one amazing town. Rothenburg ob der Tauber, watch out! You have competition.