October 3
The Day of German Unity is October 3rd and it seems as if on this gorgeous early autumn day everyone is touring around the Mosel River Valley. Including four Americans from Texas and one from Minnesota.
We spent our final day of this tour visiting the medieval Burg Eltz, nestled in its protective valley near Münstermaifeld. The castle is in the 33rd generation of ownership by the Eltz family. The family has another castle in Eltville am Rhein which they use as their principal residence. Eltz Castle, one of the most popular in Germany, is by the numbers of cars we saw in the parking lot and the hoardes of people entering the fortress a huge money machine for the family but we can imagine also a major investment which needs a lot of expensive maintenance.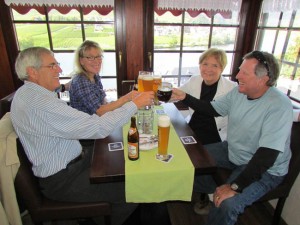 From Burg Eltz we meandered along the Mosel River Valley, marveling at the thousands of acres of vines that carpet the steep hillsides. Beilstein was our lunch destination, and we sat at the usual European Focus Private Tours table with a bird's eye view over Beilstein and the river and vineyards. One more 'wow' moment in two weeks full of them.
Our day wrapped up with a visit to a family-owned winery and their wine cellar, dug deep into the hillside of tiny Beilstein. We tasted a few of their white wines including the seasonal 'Federweisser,' or new wine. The new wine has a milky appearance and tastes a bit like grape juice but with an extra little kick. Cheers!