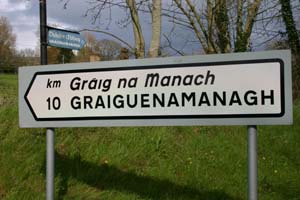 From time to time, I'll recount a story from BB (Before Blog). Here's one from Ireland:
My wife and I were traveling through the back roads of County Tipperary, careening along narrow little roads one van following the next. I was in the lead. We were getting lost and having fun doing it. After half an hour of aimless driving through the countryside, I pulled over at a farm and asked a farmer how to get back on track to Cashel. I leaned out my window and asked him, 'How do I get on the road to Cashel from here?' He pushed back his cap, scratched his red nose and barked 'Well I sure as shite wouldn't be starting from here!'
This comment provided endless entertainment for those riding in my van for the rest of the day.