If every city got blown up and all of the malls and department stores were reduced to rubble, then a shopping experience would look like what we experienced the other day. "This is after the radioactive dust has cleared and people start to collect again," is what was running through my mind as I wandered with friends who brought me to the massive market at the Mauerpark in Berlin's suburb of Prenzlauer-Berg where it meets the other suburb of Wedding.
This huge market, the biggest in Germany's vibrant capital, truly has something for everyone as long as you're not too choosy about the cleanliness of the place, which is basically mud and trampled grass. Looking for an old family photo? There are boxes of them if you don't mind that the photos are not of your family. Stacks of cassette tapes – yes, people still play them in their cars. Handmade purses of every shape and material you can imagine. Cheap sunglasses by the thousands. Eyeglasses missing their prescription lenses and worn in Berlin as a fashion accessory. Lots of leather. Old shoes with eager shoppers comparing them to their own foot size. (Not the latest fashions by far, but these are hip in the nightclubs) Row after row of LPs with eager shoppers looking through them, duct tape holding together their ancient eyeglasses perched under dreadlocks.
Yes, this every Saturday-Sunday experience is also great for people watching. There's the young woman with the amazing combi afro and dreadlock do. "It took me a year to get it this kinky," she told me before her father chased me away. I wanted to take her portrait but he was having none of it. There are food stands galore with everything from brats to stuffed peppers, crepes, soft ice cream, even a place promoting American hot dogs and burgers.
There's a free concert just over there with a musician who's popular in Berlin. Before he appears on the rough stage, a young man entertains with his cello. All around, people are lounging in the half sunlight, including a "beach" which on the sandy soil of Berlin is any place where they set up a few lawn chairs and umbrellas.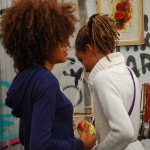 A visit to the Mauerpark is a must for any visitor who never tires of pawing through other people's cast-offs. And the characters who run the booths and shop here make me feel like a fashion alien. I have got to get some of those old shoes.