A charming fortified town definitely not on the usual tourist agenda was our stopover for a leg stretch today between Munich and Dinkelsbuehl. This is a town that I had photographed for a family historian nearly a decade ago.
Weissenburg im Bayern features grand sections of wall built in the 1300s and 1400s and a town church built in the 1300s but enlarged to its present dimensions in the 1400s. Those walking about the town were all German, not an American in sight. That's good, because it means that this is an authentic town, not yet spoiled by the bus groups.
St. Andreas was our first stop on our walking tour. The church features an off-center high altarpiece at the front of its otherwise bare interior. Outside, a high pulpit on the west exterior wall was meant for giving sermons to those who were not allowed into the church (those with communicable diseases, for example). From the church, we admired the Latin School, built in 1521 after the Protestant Reformation came to this area. Around the corner is the impressive and beautiful Ellinger Gate, considered one of the prettiest in Germany. It was built in the early 1400s and finished off in around 1520.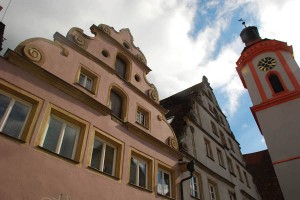 European Focus Private Tours loves to take the back roads to explore and experience the real Germany, those parts left behind by the big bus tours.