An example of what can be done in Ireland. All tours by European Focus are custom-designed and private. Contact us today to find out how you can have the Trip of a Lifetime in Ireland or any of the 18 countries where we work in Europe.
This trip has been designed and priced for a party of four. The trip can also be created for a party of two, three or up to five.
DAY 1:
Dublin (2)
Your private tour guide and driver meets you at the airport.
We leave the airport and head right for our hotel located in a quiet suburb about 15 minutes drive from Dublin city center.
(If possible, depends on how full the inn is the night before) We will have arranged early check-in. Your rooms are officially ready at 8 a.m. but first, we have some breakfast. Then you are invited to get horizontal for a few hours. You will need it! No one sleeps on the plane and you will be dead tired. Unlike big bus tours, we don't push our guests to do an insane amount of activity on their arrival day. That's not only "no fun," but we think it's also quite dangerous.
Later, we walk down to the neighborhood pub for dinner. (Included)
DAY 2:
Dublin

We see Trinity College, the Book of Kells, the old library and also the most famous sights in central Dublin including the Half Penny Bridge, the castle, oldest and most unique church. Dinner is on your own in the village center, 10 minutes away from our B&B by foot. There are many options.
Day 3:
Cashel, County Tipperary (1)
We leave Dublin and the big city behind, from now on we will be in small towns and hamlets. We drive into Tipperary for a one-night stay at a small hotel in the center of Cashel, a lovely town with a huge castle ruin and church complex looming over head. It is said that St. Patrick baptized a pagan king here. When the aging Patrick accidentally stuck the king in the foot with his staff, the king thought that pain was just part of the ritual and so he didn't say a word.
We see the famous "Rock of Cashel" and more. For the rest of the evening you have time to wander and of course, there are pubs galore. There is also an ancient abbey that we know you will enjoy exploring.

DAY 4:
Kenmare, County Kerry (3)
We drive south from Cashel with a brief stop in the historic port town of Cobh. It is from here that the last passengers to board the 'Titanic' got on board the smaller boat which took them out to the waiting liner. Victims from the 'Lusitania' were also brought here. Enjoy the highlights (we will grab lunch probably here) then continue to Kenmare, arrival around 6. We stay three nights in an historic old coaching inn located in the heart of town. There are many places to eat (and get a pint) within a minute or less from the front door.
DAY 5:
The Ring of Beara
One of the least-spoiled pieces of Ireland, and we spend the day getting to know this wild and rugged peninsula on a combination drive and low-impact hiking opportunities. We grab a bite at a deli in Kenmare and picnic (weather permitting) with a view for our lunch.
We return to Kenmare with time left over before your dinner reservation for browsing in some of the many lovely shops in the town center. All of this is in easy walking distance from the hotel.
DAY 6:
The Ring of Kerry

We take a scenic drive around part of the famous Ring of Kerry including an awesome cliff where you have a tremendous view, weather permitting, out to the Skellig Rocks, featured in the last scene of the most recent Star Wars film. Guests will enjoy plenty of chances to get out and hike. We will have lunch in a seaside village near the beginning of the Transatlantic Cable. Ability to walk uphill for a long distance essential for this stop. Otherwise, we skip it.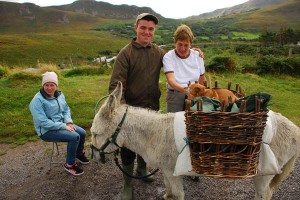 Day 7:
Dingle, County Kerry (2)
We leave Kenmare and make a stop at a working sheep farm for a demonstation of sheep herding and sheering. We then drive to Killarney (no stop planned) where we get onto straighter, smoother roads up to Dingle. Dingle is the farthest western town in Europe. We stay two nights in a very beautiful modernized B&B located on a bluff overlooking colorful Dingle town and the harbor.
You have free time for the rest of the day. Dingle is full of restaurants and our hosts at the B&B can help with reservations according to your tastes.
Dingle is one of Ireland's music centers. Pubs have music starting at 9:30.
One of our favorite places to listen to the music is at the foot of the hill where our B&B stands.

DAY 8:
Dingle area sightseeing
This wild and windswept place is crammed full of ancient monastic sites, ring forts, monasteries and more plus the best famine farm museum in Ireland. You can learn about the Irish Potato Famine at a place where the family, who are the original owners going back hundreds of years, can tell you about the suffering of their ancestors. They even wrote a book about it (available for sale).
You stand at the farthest western point in Europe at Slea Head.
DAY 9:
Bunratty, County Clare (1)
We drive up through lovely landscape to the village of Bunratty, conveniently located just 10 minutes from Shannon Airport. Ireland's best castle is there, Bunratty, and you can tour it this afternoon along with the adjacent folk park and museum with its many examples of how poor and middle income farmers and their families used to live.
Your farewell dinner to Ireland tonight is at a pub a short walk from the B&B where we sleep.
DAY 10:
Departure from Shannon International Airport

European Focus never surprises our guests with any hidden charges or fees. Your tour includes:
Double occupancy superior rooms in small hotels and fine, upscale Bed and Breakfasts and small hotels.
All ground transportation from where you land to where your escorted tour ends.
All fuel costs, cost of the vehicle, tolls, entry fees for sightseeing, private tour guide's fee, other logistical costs.
All breakfasts and light lunches (sandwich or soup) are included. When lunch is included, one beverage such as a pint of beer, a glass of house wine or a soft drink is included.

Your tour does not include:

Airfare, dinners and mandatory trip insurance

The cost of this tour as written is 6,400 Euro per person based on two couples. We will be happy to price this tour for your own group size up to a maximum of five persons. To indicate interest in this trip, please visit this page on our site and select Ireland Highlights.