July 16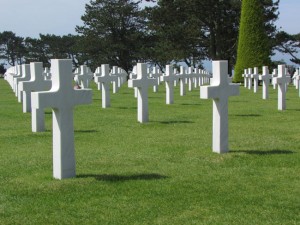 Three nights spent touring the battlefields and landing beaches of Normandy, which suddenly came to the world's attention in the early hours of June 6, 1944, have taught us that the French have enduring gratitude for what our young men accomplished on that day and during the weeks and months that followed.
It's tragic, this American way  of almost taking pride in not knowing a damned thing about history, even our own. Ask ten Americans on the street how many American military cemeteries there are in Europe and I bet you that five of those ten will say, 'We have cemeteries in Europe?' (There are 14 by the way)
Everywhere we go, we are greeted warmly by the French. There is no rudeness. There is no anti-Americanism. Only respect given and received. The French suffered mightily under the cruel grip of the Germans. More than 20,000 lost their lives as a result of the D-day invasion. Those 20,000 have no world-famous cemetery drawing thousands of visitors per day.
Perhaps the most well-known of the American military cemeteries in Europe is the spotless cemetery above the landing site called 'Omaha' by the Allies, outside the village of Colleville-sur-Mer, about fifteen minutes out of the larger town of Bayeux by car. The 175 acre site is filled with orderly rows of 9,386 men and three women killed in the weeks and months surrounding D-day. One WWI veteran is buried there as well. Two sons of former President Theodore Roosevelt lie side by side along with thousands of lesser known but even more valiant men who gave their lives to defeat a brutal dictatorship which threatened to swallow up the entire world.
To walk between those white crosses and Stars of David, made of a marble from Italy which sparkles in the sun, is to walk down an avenue of lost hopes, aspirations, talents and futures impossible to comprehend. The loss of a huge portion of men and women… what inventions would those minds have come up with to improve life on our planet? Was there a president (or two or three) cut down by machine gun fire on the beaches of Omaha or Utah? To think about the waste of life and treasure in that – hopefully – last great World War makes one's head throb in the July sun.
And then, you sit in the shade near the massive memorial at the head of the park. And you look out over those orderly rows and the closely-cropped green grass and at the strange hazy light which fills the spaces between the tall trees and over those at rest. And a strange calm comes over you. These men saved us from unspeakable horrors thought up by demons who were running one of the great nations of Europe. Thoughts turn to saluting them. And salute them we shall, for hundreds of years so come.