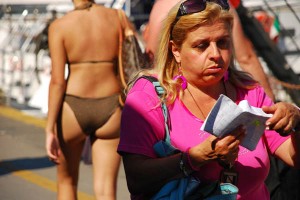 In the year when I was born, Capri was probably a fantastic place to go and relax and stroll around. Sophia Loren, who owns a magnificent compound on the Amalfi Coast probably went there to buy her sandals. Today, in the time of mass tourism when practically everyone can afford to travel, Capri is a hothouse of sweaty bodies, cheap chachkies and dumb t-shirts with a healthy dose of upscale and fabulously expensive boutiques for the blue-haired group who disembark from the 200-foot yachts moored in the harbor. The best part of a visit to Capri is the jet boat ride there and back.
Our visit on this day of 88 degrees started with a climb up to the town via funicular. We were packed in like sardines and let me tell you, some of the other passengers hadn't taken much time applying anti-perspirant. Once up on top, we were part of a herd, slowly moving to a restaurant. We found one, lovely and with a view of the water and as a special bonus the "coperto," or cover charge just to sit our fannies down was "only" $5 a person. So before you even lift a fork to your mouth, you've spent the equivalent of what a small appetizer would cost. Oh well. We're on Capri, and it's the price of being glamorous. Maybe we'll run into "Benifer" or some other celebrity like Miley Cyrus or whoever she is these days.
On the way down, we run into a mass of stinking humanity waiting for the funicular back to the port. We quickly backtrack out of that horror and grab a taxi. A man, panicked. tells the taxi man that their ferry leaves in ten minutes. He tries to jump the line. He's not successful, so perhaps he had to check into the five-star hotel nearby for "only" $600 a night, not including breakfast.
Back down at the port, our guests take the boat to the Blue Grotto while we hang out and people watch. We see a young man in a rubber dingy propel at top speed smack into the side of a big Boston Whaler. He's lucky he didn't go sailing into the side of the boat. Evidently, he's a sailor in training for a luxury yacht parked around the bay. The conversation around the area goes on for about half an hour with plenty of joking amongst the other sailors about this mishap.
On the way back, we leave the island behind and head east along the coast for a lovely ride as the sun slowly sets into azure waters. Back in Amalfi, we watch the sun set from our balconies, the memory of the hot and sweaty island slowly recedes as we think about a lovely dinner in a family-owned Trattoria that we've adopted as our dining room for the three nights we're in Amalfi.