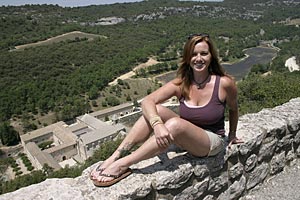 Europe Tour Guide, Jenean Derheim
Check Availability for Jenean >
Meet all our Tour Guides >
Book Vacation Tours >
Born in 1960, and raised in Provo, Utah, in a family with strong ties to their Italian and Slovenian heritages, Jenean developed an early appreciation and love for different cultures, languages, and philosophies around the world. In Provo, Jenean's family was unique. Not being part of the predominant culture/religion taught her to adapt and learn the ability to bridge cultural differences.
After graduation from college, Jenean focused on raising her three children as well as her career as a marketing professional. Over the years, she lived in Southern California, San Francisco and then moved back to Salt Lake City to become one of the first 100 employees at WordPerfect Corporation. After five exciting years at WordPerfect, she moved on to Novell, Inc., Folio Corporation and finally NextPage Corporation as their Director of Corporate Events and International Marketing. In 2000 she joined forces with James Derheim to work with him to lend her knowledge of European travel and extended language skills to the team.
While having traveled extensively throughout the United States and Europe during her professional career, she prefers her travels now, helping clients have the most authentic experience possible in their travels. Jenean's expertise and passion for Ireland, France, and Italy as well as language, have expanded the tour offerings of European Focus. Jenean speaks conversational French, German, and Italian.