← Back to Vacation Tour Interest Form
← Back to Genealogy Tour Interest Form
(If full text does not appear click once on the headline)
Updated on April 3, 2020
Please read before submitting your tour inquiry form.
European Focus Private Tours primary guide James Derheim lives full-time in Germany. He spends around seven months of the year on tour with his clients.
Genealogical research tours are offered in Germany, Austria, Switzerland, parts of eastern France, Ireland and England.
Requirements
All travelers must have health insurance that covers them in Europe. Trip cancellation or interruption insurance is mandatory.
Special diet needs must be made clear before you sign your contract.
European Focus can take small children, but parents need to know that booster seats from America are not acceptable in the EU due to their different laws. Booster seats would need to be rented by the parent(s) for the duration of the trip for all children under the age of six or who are shorter than four foot, five inches.
European Focus is not equipped to take people who need a wheelchair to get around.
European Focus can provide a contract and liability waiver prepared by our company's attorney to interested parties in advance of you starting the planning process with us.
Payments Policy
Due to the highly personal and exclusive nature of our trips, European Focus Private Tours are more expensive than bus tours due to the luxury of having a private guide, private vehicle, upscale lodging, choice of food and personal service. If you request an all city tour (Prague, Vienna, Paris for example or a trip that is mainly concentrated on large cities) you can expect to pay more due to the high costs of lodging and transportation in those cities.
A tour price is calculated by adding the costs of lodging, breakfasts, lunches, fuel, the cost of the vehicle, tolls and other logistical costs of travel and your guide's fee.
Costs do go down some when you add more people to your group.
Always ask via your Tour Application for a no-obligation price estimate for your Trip of a Lifetime. European Focus is happy to provide this and we never add you to a mailing list.
Timeline
Submission of your tour interest form
European Focus responds, usually within 48 hours
A "First Draft" itinerary is presented to you
If needed, a "Second Draft" is presented
After you accept our plan, owner James Derheim prices the trip
The decision is up to you at this point and you have 5 days to decide
At your "Go," a contract is prepared, deposit is taken and reservations are made
This process is expected to be complete within 10 – 14 days of your submission of your tour interest form.
View our contract here.

Deposit
A deposit of 300 Euro per person at the time of contract signing holds your dates.
All tours are priced in the Euro. If your tour is an all-England and Scotland tour, then your tour may be priced in Pounds Sterling. Guests pay in U.S. dollars, converted on your payment dates to the Euro or Pound equivalent.
Payment of half of the balance due for your tour is due 30 days after booking your tour. The balance of your tour price is due 90 days prior to trip start. If you book your trip within the 90-day window of when your trip is due to start then full payment is due at the time of contract signing
Your trip insurance covers your investment in case something happens which prevents you from traveling during your assigned time. The policies that we write via AIG/Travel Guard for our clients also may include, if the client desires, a "Cancel for Any Reason" stipulation, which covers you in extraordinary circumstances. Airfare is not part of our contract, but you can purchase a separate policy for your airfare, or use the airfare money within 12 months. Ask for clarification. Due to current coronavirus pandemic, trips that are booked now will not likely be covered by trip insurance, if the reason for that cancellation is directly tied to the pandemic. Check with European Focus on the details, as it can be confusing. New insurance plans are being released by AIG now which may help with this situation.
Tour slots are booked on a first come, first served basis. Space is not held until we have a contract and deposit. Owner James Derheim works with multiple clients at any given time, so it is important that you know that you may be in the running for dates already selected by another client or clients. James informs you if this is the case when you make first contact.
Cancellations Policy
A tour is considered booked on the day your signed contract and liability waiver arrives in our office.
Trip cancellation and interruption insurance is mandatory, to protect you and your investment in case the worst happens.
While a trip can be cancelled, it cannot be rescheduled or moved to another time frame. This is because once we all sign a contract, those dates are blocked and unavailable to others. If you cancel, those dates are likely not able to be booked again by someone else at short notice. This is why clients of European Focus have trip cancellation insurance. Also, "fear of travel" is not a covered reason by trip insurance for cancelling a trip, unless you have "Cancel for Any Reason" coverage, which would have had to been purchased within 15 days of booking your trip and paying your initial deposit. Trip insurance without "Cancel for Any Reason" will not cover you if you change you mind due to world events such as a terrorist attack or a rapidly spreading virus. You will still have to pay for your trip, in full, if you cancel because of fear. If you cancel, then your balance is due at that time.
Clients must understand that European Focus has always provided clients with a grand total cost for their trip, which includes preparation of the itinerary, cost of the lodging, some meals, transportation and guide services. The full amount of the tour contract is due, even if you cancel your tour, even if your tour is cancelled by extraneous circumstances. This is why trip insurance is mandatory.
European Focus Company Vehicle
2018 Volkswagen Multivan "Highline" edition seating up to six passengers plus driver.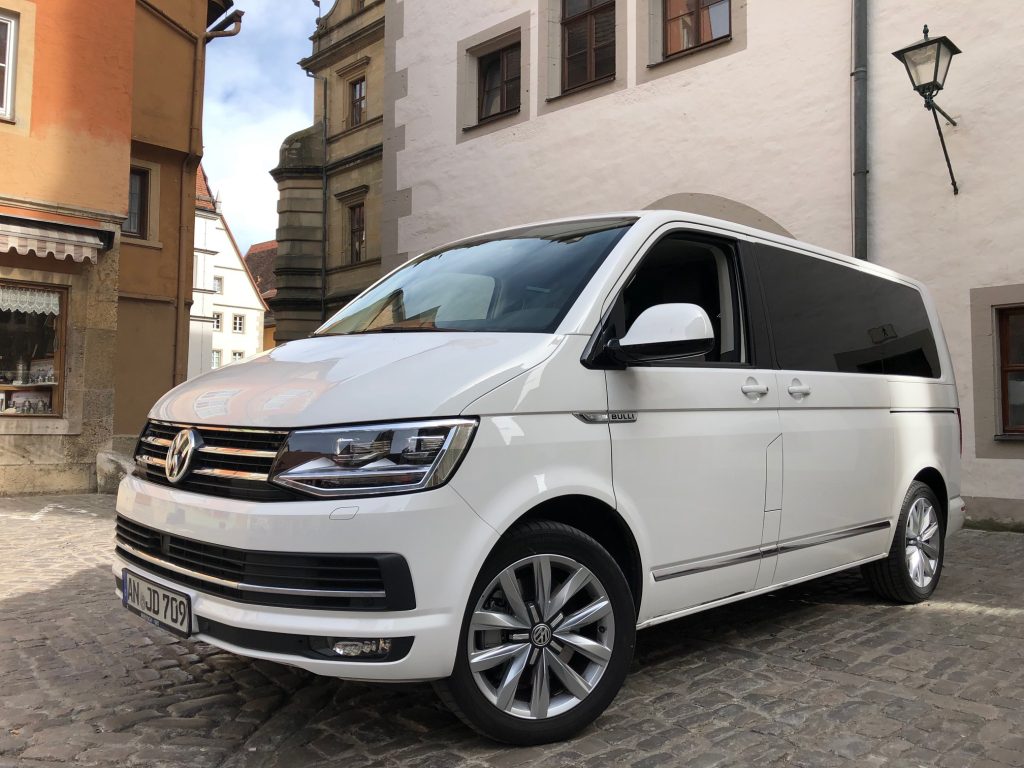 ← Back to Vacation Tour Interest Form
← Back to Genealogy Tour Interest Form