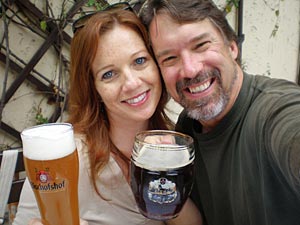 Tour guides Jim & Jenean Derheim
A History of European Focus
James started his love affair with Europe as a photojournalist for the European Stars and Stripes newspaper, published in Griesheim, Germany. For five years, James traveled extensively in Europe, photographing people, events and places for the largest English language newspaper outside of the United States.

In 1990, James started offering photographs of small towns in Europe to people tracing their family trees. This successful "hobby" grew into a full-time business by 1994. In 1996, a client asked James if he could go along as he photographed the village of Flammersfeld, Germany. James said "why not?" European Focus Private Tours was born.

James speaks German and is proficient in basic Italian. Jenean Derheim has been traveling for her corporate clients since the late 1980s. Jenean is proficient in German, French and Italian.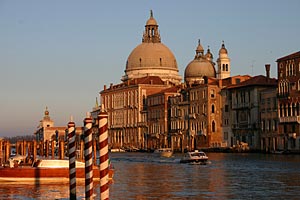 Private Tours
European Focus is the only tour company in the United States which offers customized itineraries for as few as one person up to a maximum (usually) of 10. (We have handled larger groups on request.) Find out how you can have the Trip of a Lifetime.
Genealogy Tours
The ultimate experience is to walk in the footsteps of your ancestors, to touch the baptismal font where your great-grandfather was baptized, to see the landscapes your ancestors knew in their daily life. Only on a European Focus Private Tour is this possible in an intimate and highly personalized way. Start your own adventure here.
Ancestral Photography
Names, dates and places brought to life in beautiful, sharp, professional digital photographs and video.

Now that you've discovered your ancestors' town of origin in Europe, you may be curious to know what their church, the countryside around their town and the buildings your ancestors would have seen every day of their lives in the "Old Country" look like. European Focus has been providing the answers to these questions since 1990.

Your ancestral town can be photographed for you in: Austria, Belgium, Czech Republic, Croatia, Denmark, England, France, Germany, Holland, Hungary, Ireland, Italy, Luxembourg, Norway, Poland, Scotland, Slovakia, Slovenia, Sweden, Switzerland and Wales. I will work in other areas by special request. Learn more or go directly to New Project Request Form.

European Focus cares about the future of our planet. We contribute a portion of our earnings every year to The Climate Fund. Learn how you can be a part of the solution to Global Warming at

www.climatetrust.org
"Traveling with Jim is like traveling with your best friend plus with his knowledge, expertise, and language skills you see more and learn more. You can't find a better way to travel."
— Ralph & Marge Kroehler, Illinois

"I could never travel more than 100 miles away from home again without James and Jenean Derheim"
— Nancy Sauers, California

"We saw and did things we never imagined were possible, and we were truly spoiled the entire trip. The only problem with James is that he did such a great job, we would not want to travel again without him."
— Pete and Judy Hildebrandt, Oregon

"Jim & Jenean have created truly memorable journeys for our family.  Where ever we wanted to go, they found us great places to stay and fascinating places to see.  It makes me laugh when I receive mailings promising better — there is no better!"
— Lynn Patterson, Oregon

"My family has traveled with Jim the last two summers and we hope to have the opportunity to do so again in the future.  I wouldn't want to travel to Europe without him.  He is an extremely knowledgeable, gracious and overall outstanding tour guide."
— Tim Soliday, Arizona