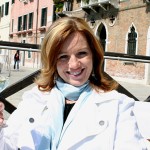 Jenean Derheim specializes in women's tours, custom-designed mystic tours, cooking tours and shopping tours. Her language skills include fluent French, along with capable Italian, German and Spanish.
Please bear with us while we work out some bugs in our web site calendar. Jenean is not available in February or March. Jenean is currently booked with tours April 27 to May 9, May 20 to June 11 and June 15 through June 28.
Jenean's Europe tour season extends from May 1 through October 31. Check her calendar below to plan your best vacation dates. NEW for 2012: We have partnered with a reputable company in Germany to help us with overflow requests. Please contact us today to see if you can be served during a time when the three European Focus guides are otherwise engaged.
Guide Jenean Derheim: Europe Tour Schedule