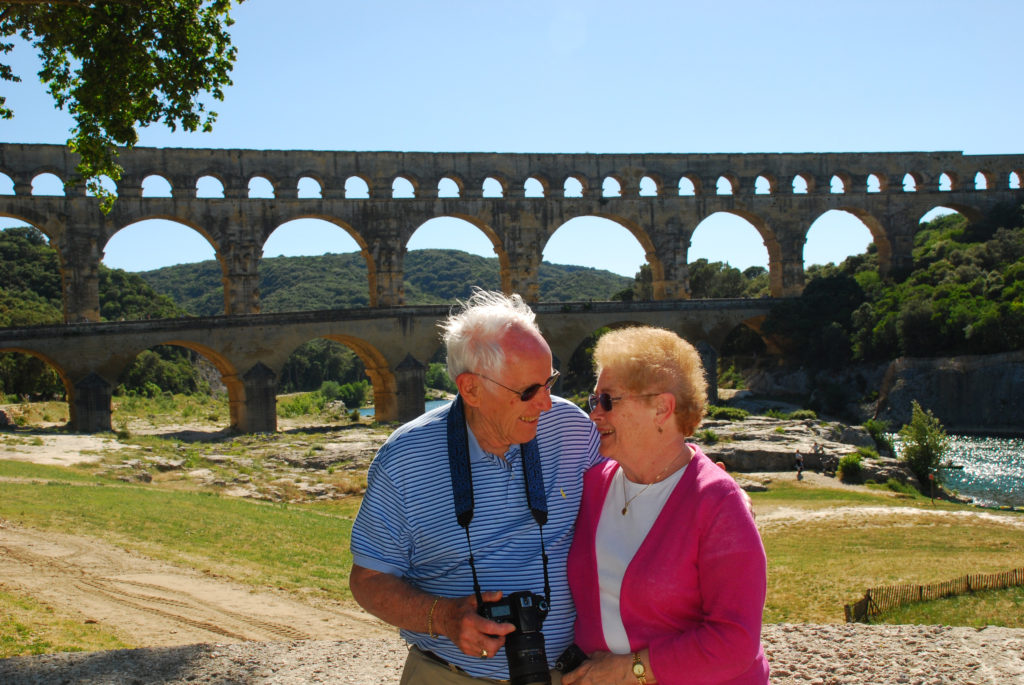 Please add another dozen 'thank you's' for each day we were with you! So many memories to go over for the next year – and all because of your expertise in focusing on 5 European countries in less than 3 weeks. Truly wonderful. Memories of Santiago and the trip to it will last a lifetime.
Will start on the genealogy this weekend.
With a hug and a handshake in thought, Bob
(Bob and Betty are two-time travelers)
Thanks for the nice note. Oh we are back in the thick of it, you bet! But every day we remember and talk about our trip and great time with you. It was a spontaneous trip full of memories and texture. Hope all is well with you in Sarasota.
Until we meet again (I'm sure we will)

Hi James.

We really had a great time in Germany and the Bavarian region. And "yes", love those German brats!! They were the best I have had in a very long time. The dark beer was exceptional.
Also as mentioned I have my sights set on visiting France with all the WW2 memorial sites. It's on my bucket list and sooner or later we'll get there – just don't know when.
Anyway, thank you for the quick spin tour – you did a fine job. Really enjoyed the Autobahn too. A great place for the high end sports cars, that's for sure.
(The couple enjoyed a one-day tour with European Focus founder James Derheim as an add-on to their long weekend trip in Germany)

Linda and James

We hope you are both doing well. We made it home safe and sound and have recovered from the jet lag. We had an incredible time on our trip! We saw beautiful scenery, historical places, found a family members' grave, and enjoyed the area where our parents met and fell in love. Thank you both so much for arranging this spectacular adventure!
We are definitely looking forward to a return trip!

(This family plus one made a huge trip from London to Normandy and across Northern France into Germany finally ending in the Alps 16 days later. They saw a lot, did a lot and we all laughed a lot! This was their first trip to Europe)

Sarah, Tom and Emily


Hi James,
I want to thank you again for the great time we had, your work was excellent. I will never be able to thank you enough for putting me with Roland. I have heard from my Cousin Edgar and from Ernst in Stadthagen.
I'll let you know when I receive my wine and we can share a bottle in Springfield of Sarasota.
Blessings, Carl
Note: Carl's cousins are wine makers in Burgen, Mosel Valley, Germany.
Carl and Barbara Tiedt

Hi James,
Finally spoke to my mom this morning. She has been asleep for 2 days! Sounds like she had the trip of a lifetime! We all thank you dearly for taking such good care of her 🙂
Be well, Dawn
Note: Dolores Petit finally had her dream trip after waiting more than 50 years. She visited ancestral villages in Germany and some places 'just for fun.'
Dolores Petit

Dear James,
I have spoken with Dolores several times since her return home. She is slowly recuperating as the trip was a real challenge for her. I had no idea she would require such special care and attention as I haven't seen her in over three years and I'm sorry I wasn't there to lend a helping hand. I realize that sometimes Dolores can be demanding and outspoken but I'm sure you were able to cope!
Nevertheless, Dolores can't stop "singing your praises" and raving about the wonderful care and service you gave her on the trip, helping her in every possible way.
Thank you for your many updates and beautiful pictures which I thoroughly enjoyed and will treasure. As you know, I have been to Germany several times in the past and my only real disappointment was not seeing my family one more time. But Dolores was so impressed, she hopes to return to Germany so perhaps I'll still have an opportunity to see my family sometime after all. Time will tell.
You have done such an outstanding job and I certainly commend you for your expert attention to details and the care you extended. You went beyond the call of duty as travel guide and I want to express my personal and sincere appreciation. I have already told friends and family about you and even though I wasn't there, I would certainly highly recommend you.
Perhaps some day our paths may cross. Life gives us many disappointments but we move on. I am just about fully recovered from my bout with pneumonia and ready to get on with my life. Take care, enjoy your travels. Bette
Bette Ahrens

James:
I can't begin to find the words to thank you for being so flexible at the last minute to help us four women with our train/baggage issue … and more!
I know if you can direct travel for four women and they are all as pleased with your travel choices as we were, you can handle any group.
The random meeting was such a blessing and I think I speak for all of us when I say we are very fortunate to have crossed paths with you!
Your knowledge of the area, history and scenery, together with your language skills certainly made our trip not only easier but more enjoyable and meaningful.
Because of you we were able to get to places we would not have experienced. Nürnberg war sites, Rhein river cruise, your right-on restaurant recommendations, etc.
I was just amazed at how you anticipated our every need and handled each detail before we even had a chance to think of it!
Danke Shon!
Pam Gray
We spent 14 days with James as he coordinated an extensive trip through Germany for 13 of my family members. Many individuals in my family have traveled both for pleasure and work outside the US including Europe in the past so we felt that it would be hard to show us more than what we had experienced already.

Quite simply, we were wrong.

Our experience was WAY beyond our expectations which I rarely say has ever occurred for our family. One of the challenges that James picked up on immediately was the diversity of our family in part due to the age span from a 3 year old to my father who is 78 years old.

James not only planned for this during our itinerary planning but also ongoing during our trip. He remained flexible while at the same time kept us on schedule which I sensed was a challenged given our family and the varying degrees of interest that included slow walkers, store front shoppers, church and historic site fanatics to family members who just wanted to relax.

Everything from the hotels to food to sites to funny unplanned experiences was perfect! James has the inside track on so many places that it would be impossible for any commercial travel planner or even well traveled individuals to attempt to coordinate.

To get the most from your experience with this type of adventure, be open and honest with what you want to experience. James will pick up on your interest and build this into the trip. Big hotel versus small inns, unique restaurants, tours and sites that you would not know about, price ranges, etc... he will work with you. The money spent is well worth it. (not to mention the professional photography that he does during a trip which he does not promote as much as he should. the photos that he provided during our trip were priceless as he is a professional photographer)

He has a very unique travel niche. I only hope that we take another planned trip with him in the future which is in the talks already.

I have no hesitation in recommending him personally as well as for his services.

You will not be disappointed.

Erich Rosenwinkel

Hi Jim,

We want to thank you for a most enjoyable and memorable trip through the back roads of Bavaria, into the Alps through France and visits to the Rhein and Mosel valleys. The accommodations were very comfortable and the meals were not only plentiful but scrumptious. We have bounced back and are back to our routine. Last Saturday we stopped for lunch at a local pub/brewery and they were featuring fresh German beers. They were good but without the beer garden, cobble stone streets and timber houses with flower boxes it wasn't the same as the real thing. Next time I will take one of my pictures and put in the table as reminder of what it is really like.

Thanks again for a great trip, it was well worth the wait.

Regards,
Mary Jo and John

John and Mary Jo


THANK YOU so much for being such a fabulous guide and knowing just the right things to take us to and the right amount of time.
And you are dead right about the post you put about people not traveling… as I said to a friend yesterday.. from afar the world does look scary…but join it and there is no fear at all.
Sue Evans