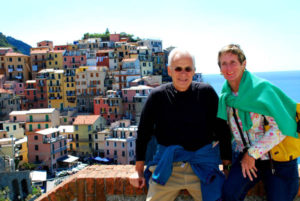 George and Susan Then on their second trip with European Focus Private Tours. We visited Manarola on the Cinque Terre among other sights in Italy.
"Traveling with Jim is like traveling with your best friend plus with his knowledge, expertise, and language skills you see more and learn more. You can't find a better way to travel."

- Ralph & Marge Kroehler, Illinois

"We saw and did things we never imagined were possible, and we were truly spoiled the entire trip. The only problem with James is that he did such a great job, we would not want to travel again without him."

- Pete and Judy Hildebrandt, Oregon

"Jim & Jenean have created truly memorable journeys for our family.  Where ever we wanted to go, they found us great places to stay and fascinating places to see.  It makes me laugh when I receive mailings promising better — there is no better!"

- Lynn Patterson, Oregon

"My family has traveled with Jim the last two summers and we hope to have the opportunity to do so again in the future.  I wouldn't want to travel to Europe without him.  He is an extremely knowledgeable, gracious and overall outstanding tour guide."

- Tim Soliday, Arizona

(In response to a blog post showing a couple of our clients enjoying Wienerschnitzel in Hall, Austria)

"I looked at those two plates of schnitzel and my mouth started to water. How I wish that I was back in Germany again to taste some of that great food. And Jim knows were to get it!

When we were in Pennsylvania last week we went over 100 miles out of our way to go to Penn's Tavern south of Sunbury where I had great sauerbraten several years ago. Well – it changed owners and I was very disappointed this time. The best sauerbraten is in Bacharach just like Jim told us."

Note: We know where to find great food for our clients!

- Bob Leitzell, California

We are home safely with a ton of wonderful memories thanks to you! Our family appreciated your professional, prompt, personal and first class service you gave us every day of our dream trip. We feel that we truly have a friend in you that we want to travel again with. Thank you from the bottom of our hearts.


Perry and Kim Daugherty, Iowa

We wanted to tell you how much we enjoyed our European Focus Tour with you. It was so laid back and relaxing having you plan, book the best rooms and events, and navigate the roads for 2000 miles of beauty! Still trying to figure out how you managed the snowfall in Austria so that our views were even more spectacular! You truly went out of your way to cater to our every whim. We appreciate all the little things like driving to the train station in Berchtesgaden to get us American newspapers and magazines while we enjoyed the spa resort and couldn't leave for a moment!! ...the last day in the restaurant for lunch with the spectacular views and fall colors, ending in the vineyard all by ourselves with the wine glasses you got from our hotel to drink our Mosel wine at the bench in the vineyards overlooking the Rhein River! People ask us what our favorite was and we have to say "all of it !" James- you made it a trip of a lifetime for us! Thank you so much! We definitely hope to be traveling with you in the future.

Jim and Denise

So good to hear from you James. We sure did love, love, love our trip. We are just now back on our sleeping schedule. I have bragged on you to all of my friends. What a trip!!!
Thanks again for a trip of a lifetime

Lin and Jennifer

Hello James I hope your doing well, thanks for the pics, I am putting together an album with notes of our trip. James this was the best trip of my life, the boys and I are already talking about going back. Having you as our guide made it all possible, especially to see as much as we did. Thank you, Eddy
Note: Father and two sons tracing the steps of a previous generation, the boys' grandfather, as he moved across France and Germany in 1945 and 1946. It was a highly emotional time as this was a trip that had been in the planning for many years.

Eddy G

Just a quick email to thank you for making the German leg of our holiday full of memories and awesome experiences.
We arrived home yesterday and both Paul and I are suffering jet lag, whilst Andrew, changed his cloths after a brief sleep and went to the gym, and then out with his mates. We viewed the CD of photos last night and the pictures are great. Our family saw a few too.
Note: European Focus founder and head guide James Derheim provides many of his clients with a CD full of photos to help them remember their trip.

Skelton Family

Please add another dozen 'thank you's' for each day we were with you! So many memories to go over for the next year – and all because of your expertise in focusing on 5 European countries in less than 3 weeks. Truly wonderful. Memories of Santiago and the trip to it will last a lifetime.
Will start on the genealogy this weekend.
With a hug and a handshake in thought, Bob
(Bob and Betty are two-time travelers)