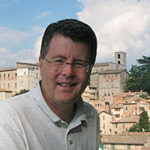 Jeff Gabardi's niche is vacation tours in Italy and he is capable in Italian. He joined European Focus in 2011.
Jeff is on hiatus for 2013. We have four other guides to serve you, so please inquire today.
Jeff's tour season is May 1 through October 31. Check his calendar below to plan your vacation to Italy.
Guide Jeff Gabardi: Italy Tour Schedule