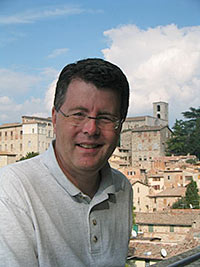 Europe Tour Guide, Jeff Gabardi
Check Availability for Jeff >
Meet all our Tour Guides >
Book Vacation Tours >
My father worked for the post office for most of his career. And he never finished college. But he knew more about the Peloponnesian and Punic Wars than anyone I've ever met. By the time I was old enough to read, I knew where in Italy our family came from, the beauty of that place high in the Dolomites and how the Romans gave citizenship to the people of our valley, an honor bestowed on relatively few conquered peoples.
I have always loved history, just as did my father. And though he got to Europe but once before he died, to see where his parents came from and to meet relatives he had known of his entire life and to see for himself how strong the family resemblance was, I've been many times over the course of the last 25 years. I was 35 years old by the time I first set foot on the continent, but I go back regularly, and Italy is my favorite destination.
I've spent my career doing legal, policy and advocacy work, but I didn't prepare for that as an undergraduate. In college, I followed my heart and majored in something I loved — history. And though my focus was on Russian history, I never lost a love for learning about all things Italian.
Not long after my father died, my brother quit his job and moved to Siena for 6 months to learn Italian and immerse himself in our heritage before he started his own family. He knew this was a rare opportunity in life, and he took it. My first trip to Italy was to pick him up from this sojourn and it included a stopover in the Val di Non to introduce me to our family. He had reconnected with them after nearly 100 years and has become the bridge between the Gabardis in the old and new worlds. Traveling with him was special, despite the fact that I hadn't learned the language. In school, I had studied French, Spanish and Latin but there were no Italian classes. So, when I returned from that first trip to Italy, I enrolled in night classes at the university to learn "la bella lingua". I'm not fluent in Italian, but I know enough to get around and learn from people who are charmed that an American would come to Italy armed with enough knowledge of the language to make the experience more memorable.
Italy is a remarkable and beautiful place…and it is chaotic. That is part of the charm of this amazing country, and patience with their way of doing things is a learned habit. After 2 weeks in Italy, you may want to stay and enjoy la dolce vita with its slower pace and focus on living well. The Italians have taught me that we don't live to work, but work in order to live. Over the years, I have struck up a very close friendship with a young family in northern Italy, not far from where my family comes from, and I get to see them every couple of years. They are as close to me as my own family. I am the godfather, il padrino, to their son and I attended his baptism, 13 years ago in a 300 year old church high in the mountains. It was one of the most memorable experiences of my life.
So, my heart belongs in Italy and I feel no different today that that six year old kid I was who listened to his father and cousins recount the stories from the old country. It is a magical place for me, and I'll continue to look for those footprints left by Hannibal's elephants as they crossed the Alps, headed down the peninsula